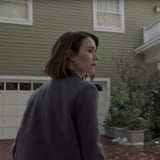 American Horror Story: Cult premiered this week and it took all of about five seconds for our jaws to hit the floor (where they remained for the entire episode). There were hot detectives, clowns having sex in the produce aisle, and of course, inevitable deaths. At the end of the episode, we see Ally and Ivy's neighbors murdered by a group of terrifying clowns, which everyone swears never happened. The couple's son is young and imaginative and all, but we're not quite sure he could come up with that detailed murder scene on his own, and if he did, well, he's clearly got a few other scary comic books hidden under his bed.
With an empty house across the street and episode three titled "Neighbors From Hell," it's time to take a stab at who we think will move in and whether they'll have the same fate as the Changs.
Related
24 Reactions to That Absolutely WTF Premiere of American Horror Story: Cult
Billy Eichner and Leslie Grossman: Though we weren't introduced to Harrison (Eichner) and Meadow Wilton (Grossman) in the premiere, during the full season preview for AHS: Cult, we see an adamant Ally telling the Wiltons, "You people are terrorizing our family and it stops now." In the same preview, we see someone in a beekeeper-meets-astronaut ensemble entering the garage of the Changs' home. Earlier this month, Eichner told POPSUGAR that the only word to describe his role was "beekeeper." Does this mean he's in charge of the entire "cult" organization? If that's the case, moving into the house across from Ally lines up perfectly with the plan to intimidate her and abuse her unrelenting fear of clowns.
Kai and Winter Anderson: From the second he rubbed blended Cheeto dust over his face, we freaked out over Evan Peters's character, Kai, and he seems like he's only going to get more savage as the episodes progress. After being asked to leave the city council meeting, he tells the group, "There is nothing more dangerous in this world than a humiliated man," and then we see him throw his coffee on an embracing Ally and Ivy. Kai is targeting the couple with his sister, Winter, whom they hired as their son's new babysitter, and there's no telling what his plans are. Sure, he's already got a house with a mysterious door, but moving closer to Ally and Ivy could just be another way for him to terrorize the town and spread "fear." Also, how convenient would it be for Ozzy's babysitter to just be a few steps away?
Gary Longstreet: We're not so sure the MAGA hat-wearing grocery store employee would splurge on a two-story family home, but what we are sure of is that Chaz Bono's character is up to something. Managing a seemingly empty store while an entire town was at home watching Donald Trump's speech yet boasting to be a fan of the president himself just shows that he has ulterior motives. And those motives might land him a quick real-estate purchase across the street from his favorite customer.
Only time will tell us who becomes the "Neighbors From Hell" when the episode airs on Sept. 19, but no matter who replaces the Changs, we have a feeling they're going to bring some chaos to town.