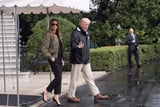 As Melania Trump joined her husband to board Air Force One and head to Texas - where the First Couple has plans to visit victims of Hurricane Harvey - she was photographed down to her shoes. This is as per usual, of course, but close-ups of her heels seem to be making their way around the Internet, and Twitter users can't help but comment on her latest fashion move.
While her olive bomber jacket might have been appropriate for the rainy weather in Maryland (combined with black separates, it was a muted look for somber travels), Melania's stilettos were far from sensible. In fact, they outraged many people who called out the obvious: so many citizens lost their belongings, and for Melania to step out in luxe footwear that is presumably designer, can certainly be considered insensitive.
Read on to catch a glimpse of her outfit, and check out those decidedly functional brown suede boots on President Trump, then see the controversy this is all inviting.
Related
Melania Trump's $51K Coat Is the Actual Definition of Out of Touch