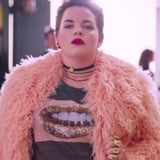 A post shared by Heathers (@heathers) on
I hope you have some scrunchies and a plaid skirt suit handy, because our first look at the Heathers reboot is finally here. The 30-second teaser aired Sunday night during the VMAs, and it's clear that the 1988 cult classic has gotten a modern makeover. Replacing Winona Ryder and Christian Slater as Veronica and J.D. are Under the Dome actress Grace Victoria Cox and Quantico's James Scully who have to face off against a pink fur coat-wearing, pixie cut-sporting Heather Chandler, played by newcomer Melanie Field. Rounding out the infamous clique is Heather Duke (Brendan Scannell), who is genderqueer, and Heather McNamara (Jasmine Mathews), a black lesbian.
According to The Hollywood Reporter, Heathers will air sometime in early 2018 on Spike TV, which come January will be rebranded as Paramount Network. In other words, you have plenty of time to watch the OG Heathers until then.